"I measure the progress of a community by the degree of progress which women have achieved." – Dr. B. R. Ambedkar.
Taking cue from the above quote of Dr. Ambedkar, who speaks of progress of society via liberation of women, author Sangeeta Mulay has taken the argument further in her little gem 'Savitribai Phule and I'.
The protagonist of the book is a girl named Sabari, who is dark skinned. This can be interpreted as a stereotype which is prevalent in the society in describing dalits. Sabari has to face the ire of her principal and classmates as she has availed reservation in an Engineering College. She has to face the tangible and intangible violence which is rampant against dalits via taunts, lack of cooperation by faculty and her friends. Stuck in a society marred by the fissures of gender, religion, caste and class, she wages a battle against her college administration as well as state to celebrate the day of birth of Savitribai Phule as Girls Education Day. She gets support from her pragmatic friends and ultimately succeeds even though threat of violence looms over her. A diary of Savitribai Phule becomes her mentor, which educates her about the struggles of the nineteenth century reformer, educationalist, and poet; for emancipation of women from the darkness of illiteracy and ignorance.
The book is beautifully written and difficult to put down owing to its pace. It is also a timely intervention in times of a global pandemic where social morality has hit rock bottom and where there has been an erosion of constitutional values, with state asserting itself and erasing the fine balance that was maintained between the state, individual, and civil society.
However, what pricks is the author's lack of understanding of dalit women and their emotions. Various instances portray her as student who lacks merit (since she has joined the college under the clauses of reservation) which is unacceptable. A look at the various cutoffs of institutions makes it clear that the difference in merit list of is merely a few marks and not some humongous gap. Thus, the author puts forth the Brahmanical discourse, which is in vogue even today, thus puncturing the very essence of Sabari's character. By portraying her as a woman of low self-esteem, the author misses the opportunity to portray her as a strong dalit woman and institute a new discourse. The author also plays into the hands of Brahmanical patriarchy where a Brahmin comes to her rescue, thus missing the opportunity to make the character fight for her own emancipation.
Later in the book, the author herself seems confused about the placing Savitribai's and Sabari's castes, which is evident when the principal puts forth that Sabari empathises with Savitribai owing to the fact that they belong to the same caste. Later it is very disturbing to see the protagonist start a movement called, "We all are Shudras." This is problematic as it reinforces the Brahmanical divisions of Rigveda, rather than speaking of annihilation of caste and varna as whole.
Moreover, it is really nonsensical in a society marred by casteist mindset, to shed all biases and participate in such a movement which consists majorly of upper caste which was evident during the Mandal agitations. I feel that the author needs to study the problem of caste in a more nuanced way and particularly struggle of dalit women in their quest for justice, liberty, equality, and fraternity. Nevertheless, the author needs to be applauded for her brave effort and daring to write this gem.
Author Sangeeta Mulay herself admits that she comes from a privileged societal location and has hijacked the narrative of dalit women 'who speak differently'. This can be equated with the Gandhian idea of sympathising, which has led to these blunders in her story! Thus, her apology is apt, and she needs to decaste herself to understand the woes of dalit women who have to face the ire of both Brahmanical patriarchy (from both men and women of upper caste) and dalit patriarchy, which Dr. Ambedkar talks about in 'Annihilation of Caste'.
Special mention and credit ought to be given to Panthers Paw publications and Yogesh Maitreya who has published this book and has given a new platform to people of marginalised communities and women to put forth their ideas and aspirations tangibly. This is a brilliant and important initiative and needs to be strengthened by support from all strata and sections of the society. Kudos to the writer and also the publication team for bringing this jewel in this times of Corona. These are times for introspection of preconceived notions prevalent in the society and bringing Savitribai Phule and her struggles to the forefront, something which has been selectively ignored to maintain the Brahmanical hegemony.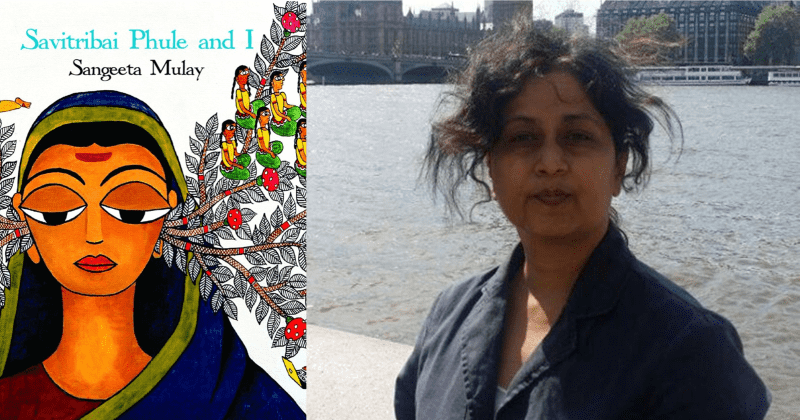 Adv. Nikhil Sanjay-Rekha Adsule has completed his B.E. (Electrical) and pursued Masters in Law from TISS, Mumbai. He has a Masters in History too along with NET (JRF) and SET. He is currently pursuing another Masters in Women and Gender Studies. He is a recipient of the prestigious Dr. Ambedkar National Dignity Award – 2019.
Support our literary endeavours by subscribing to the FREE Newsletter service of Bengaluru Review here . Reach out to us with any queries or ideas of your own at reviewbengaluru@gmail.com.